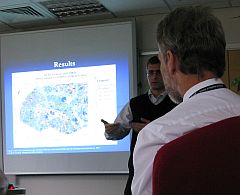 GIS solutions
NSRI has long-standing experience in the design and implementation of information system applications across a variety of sectors. CSAI can provide consultancy services ranging from initial planning and analysis through to the development, deployment and subsequent support of computer-based projects for environmental analysis.CSAI assists in the strategic business evaluation of spatial software technologies and the selection and validation of complementary data resources. CSAI operates to standards including UML, RUP and PRINCE, and has a wealth of experience in providing quality GIS services to the environmental, utilities, finance and defence sectors.
Data products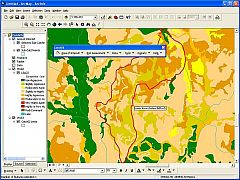 As part of an ongoing programme of data enhancement, the Institute's Land Information System, LandIS, holds a wide range of environmental and soil-related data, including basic soil-survey data, laboratory analyses and numerous derived and thematic datasets. The latter datasets include soil physical and chemical parameters and pedo-transfer functions, agroclimatic information, land suitability factors and environmental risk ratings which can be provided in all common formats and on a variety of media.
Database management
CSAI staff have some 40 years of experience in developing and designing databases and associated software for the agricultural and environmental sectors. It offers a wide range of consultancy services for database management, including:
design and construction of relational and object-oriented database management systems such as Oracle, MySQL, PostgreSQL/PostGIS and MS SQLServer;
development of customised software routines in languages such as .NET, C++, Perl, Python, Java and Javascript, as well as 5GL GIS environments such as ArcGIS and MapInfo. We also have a good deal of experience with the emergent free and open source GIS (FOSS-GIS) tools also.
Cartography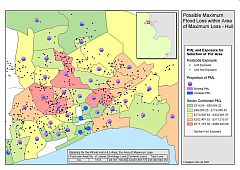 Some sixty years of experience in the production of high quality cartography was recognised by the British Cartographic Society, with the presentation to Cranfield of the John Bartholomew's Award for Excellence in Small-Scale Thematic Cartography.CSAI offers a full range of services using digital and traditional mapping techniques including customised map production from design concept to final production, digital and photogrammetric capture and validation of map information, archiving and training support. Reprographic and photographic and plot/poster production services are offered. All work passes through an in-house audit procedure to ensure high-quality final products.
Research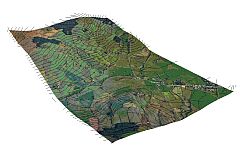 The LandIS team conducts research into aspects of data organisation, database management, metadata, information system design and the integration of modelling into geographical information systems. A series of information system projects within the UK and internationally has allowed the development of sophisticated approaches to spatial modelling and data visualisation.
We also conduct research into aspects of ecosystem services, fate and behaviour of diffuce agricultural chemicals, terrain analysis, pedometrics, digital soil mapping, environmental management, soil quality and the impacts of climate change - to recount a few key areas. Many of these themes incorporate elements of information management and systems development.
Top